Jason's View
Peer-to-Peer Mentoring: A New Model in Providing Support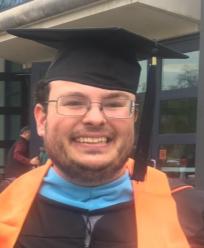 Peer-to-peer mentoring became an experiential practice and support that helped me build my confidence and repertoire of social experiences. This new model of peer-to-peer interaction in human services and supports is emerging in addition to the agency-to-individual model.
Peer mentors helped me engage in new encounters and experience.
The peer-to-peer model is people in the community offering mentor and peer supports on a one-to-one basis to serve individualized unique needs. For me personally, I engaged other graduate students going for their degree in caring professions of Clinical Social Work and Occupational Therapy who both were sensitive to my needs. The model of the social agency, although certainly important in our society, may pose challenges and limitations in those served and how they are served through a group model. Peer mentors were helpful to me by providing supports in the social arena as a way to help me engage in new encounters and experiences that were not always initially very easy for me. Although agencies are of course necessary in the supports they provide, it is time to consider expanding and looking at peer-to-peer mentoring as support models that can co-exist and partner with the social agency.
These peer supports are not hierarachal but person-centered. I always had agency in what was decided.
These peer supports are not hierarchal but person-centered with me as an integral part of the planning, process and goal setting. I always had agency in what was decided and felt it was a great working relationship rather than feeling I was being directed as to what I needed to do.
The advantage of peer-to-peer mentoring is that people of all abilities develop relationships which are satisfying and allow for growth through connected human interaction. These are not friendships per se (although friendships certainly can develop), but they have helped me with ideas and strategies I needed. Rather than being about "fixing," it became experiential practice and supports that have helped me build my confidence and repertoire of social experiences. It has helped me be more open, not feel so alone, and have fun in the process!

---
Jason Harris
Founder of Jason's Connection – an online resource for those with disabilities, mental health, aging and other needs. Jason was awarded an M.S. in Cultural Foundations of Education and Advanced Certificate in Disability Studies from Syracuse University. Jason is also a Project Coordinator and Research Associate at the Burton Blatt Institute, an international think tank for Disability Rights and Human Justice at Syracuse University. He regularly contributes to the blog in his own series called Jason's View and travels the country consulting and speaking about disability issues and rights. To read more from Jason Harris, read Jason's View.