Guest Blog
Out of the Bubble
A new Recommended Read in honor of National Epilepsy Awareness month. Out of the Bubble is a book written by the below author on her journey with her son's own epilepsy. It is a candid memoir of a family faced with an unimaginable tragedy.
Shelby McGrath Myers lets you into her world as she recounts the life changing hospitalization of her son, Clayton; the effects on her family dynamics; their transition home with a new "normalcy" and, ultimately, the heartache of losing a child. Gripping and enlightening – the reader will witness the power of a family's love and why the story of a little boy, nicknamed "Clayton the Great", will impact your life.
I must first preface this article by saying; I am a mother (foremost) and have never written a book prior to this work. My life was that of any typical parent; bumps along the road, but nothing which wasn't corrected by the morning. Up until our journey with Clayton, I knew nothing of the topics contained within this book or the need for such awareness in so many areas. I believed that all boo-boos could be fixed and that my children would be safe. All of that changed for us on October 16, 2004 – thus, the need and idea came to be for my memoir.
"Out of the Bubble" recounts the life altering hospitalization of my son, Clayton; the effects which the tragedy had on our family dynamics; the transition home to a new "normalcy" and, ultimately, the heartache of losing my son. The book is encompassed of my raw and honest emotions and interpretations through every step of the journey.
It took me over 2 years to write this book, with it being only 138 pages (plus photographs and acknowledgements), you may ask why? Simply, because I had to relive and recount the most heartbreaking events of my life and, this time, I was not on "autopilot", but feeling every emotion.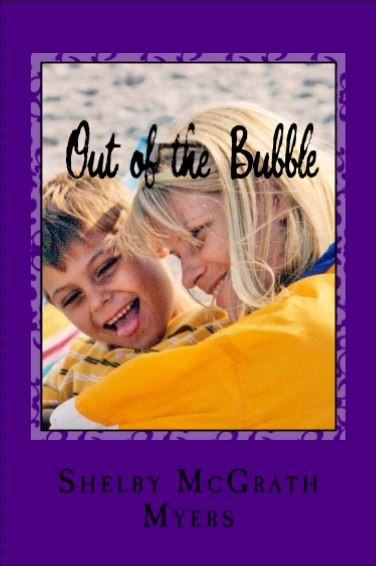 You may ask, then, why did I write this book and relive these experiences? Honestly, because the need for my son's, our family's and my personal story needs to be told. The public needs to be aware of the devastating effects of Epilepsy; what families endure during extended hospital stays; the medical field needs to have insight as to the patient/family experience outside of their care and, mostly, to allow any family going through a similar situation the knowledge that another has felt/lived the same.
My son brought out the best in everyone and conveyed countless messages – though, he was never able to speak again after his illness. He not only gave me the honor of being his "mommy", but also his voice. I will continue to spread his story – that of a little boy, nicknamed, "Clayton the Great", who continues to inspire and create awareness; although, he now only with me in spirit.
A portion of my royalties are being donated to Clayton's Hope Organization, which benefits Epilepsy Research and Awareness. We started this non-profit in 2006 and I am privileged to be Clayton's voice through this organization and my memoir. I hope that you will read, "Out of the Bubble"
and pass along the information to those which it could benefit. It can be purchased through online retailers, select bookstores and in eBook format (Kindle). I hope that it will touch you, enlighten you and inspire you.
---