Interviews
Meet Jenni Gold – Director of Cinemability – Part 2
The Second part to Jason's Interview with Jenni Gold – Director of Cinemability.
JASON: HOW DO YOU FEEL ABOUT HOLLYWOOD THESE DAYS? DO YOU THINK IT'S STILL PROGRESSING, EVEN THOUGH FILMS LIKE MILLION DOLLAR BABY COME OUT? OR DO YOU THINK IT MAY HAVE ACTUALLY HELPED MAKE A CASE FOR PROGRESSION, BECAUSE YOU WERE ABLE TO SAY "LOOK, THIS STIGMA IS STILL AROUND?"
JENNI: I think it comes down to the writers and the creators that are making the film or show. There is unfortunately a way people talk and write about those with disabilities that they don't even think about. For instance, there was an article written about me that called me a "Wheelchair Bound Director" and all I could think was "What am I bound to?" That writer needed to see CinemAbility! It just shows how that kind of language is still so ingrained into the way people speak and think about those with disabilities. I'm not one that is big on political correctness, per se, but I think there is a sensibility that comes with enlightenment. And I don't think this just has to do with Hollywood, but everyone – if we could just learn more about each other, we could understand each other better regardless of religion or race or sex or ability. That's what inclusion is about.
JASON: YOU TALKED ABOUT JAMIE FOXX AND YOU HAD A LOT OF FAMOUS PRODUCERS, ACTORS, AND WRITERS IN THIS FILM. HOW DIFFICULT WAS IT SCHEDULING ALL OF THOSE INTERVIEWS AND MANAGING TO GET THESE INTERVIEWS WITH EVERYONE'S SCHEDULES?
JENNI: It was very hard. The bigger the talent is, the busier they are. So we had to be ready at a moment's notice to drop everything and go shoot an interview. It definitely kept us on our toes. There are interviews to this day that we were never able to get because it didn't work out and even though the film is done, I still want to get that interview. At least as something we could add to the website.
JASON: WERE YOU SURPRISED BY ANY OF THE INTERVIEWS YOU FILMED?
JENNI: Yes – I was surprised by how much many of the people that we interviewed knew about the subject matter and how much they really cared about it. There were topics that we really didn't know the actor or producer or writer knew that much about it until we got to the interview. Ben Affleck was interesting because he had very limited time and he was between a number of projects. We actually interviewed him in the green room before he went on the Tonight Show – he was on that tight of a schedule. And he was wonderful. Over the years Ben has developed a friendship with a young man who has a disability. Ben spoke at his high school graduation and is part of his life. Because of this friendship, Ben had a very grounded and insightful understanding of disability issues. Many of the people that did the interviews wound up having something extra that was interesting to talk about. It was great that so many actors and writers and producers were able to participate because hopefully now, the world be interested in what they had to say and see CinemAbility.
JASON: YOU HAVE A DISCUSSION IN THE FILM ABOUT ACTORS WITH DISABILITIES PLAYING CHARACTERS WITH DISABILITIES VS. ACTORS WITHOUT DISABILITIES. HOW DO YOU FEEL ABOUT THAT?
JENNI: What I wanted to do with the film was show both sides. What that does is allow for a discussion after the film on different topics and they're able to decide for themselves. It was important for me, as a director, not to force my opinion on the audience, but present the issues and let people decide for themselves. You know, when we talked to Marlee Matlin, she talked about how when she won the Academy Award, some people said it was just a pity vote. Now I had heard that, but I didn't expect her to open up about it. But she said it right off and was very honest about that experience and her feelings.
I think that when we talked to our interviewees about what we were trying to do with the film, many of them relaxed and opened up and we got a lot of unique moments of honesty from a lot of different people.
JASON: IT'D BE GREAT IF THE ACTOR ACTUALLY HAD THAT DISABILITY. BUT AT THE SAME TIME, IT'S A JOB, SO YOU WANT TO MAKE SURE YOU HAVE THE BEST PERSON FOR THAT JOB.
JENNI: Film is a collaborative art and you want to make the best art you can for both what's right in the world and what's right for the film. It's a delicate balance.
It's important that those with disabilities are correctly represented and not stereotyped in movies, because it makes such a big impact on everyone – children, adults, everyone. But at the same time, we still want to tell a story and recognize the great talents that can do so. As Garry Marshall says in his interview, "You have to depict it, on screen. You have to see it." So if the actor can't convey that emotion on camera, even if they do have that disability, they still might not be right for the role. As I said, it's a delicate balance.
JASON: WHERE DO YOU HOPE TO SEE HOLLYWOOD PROGRESS ON MOVIES WITH DISABILITIES? AND HOW ACTORS WITH DISABILITIES GET ROLES?
JENNI: I think that if everyone saw this film – they would think differently. Writers would begin to do their best at making characters 3D – not one-dimensional characters. Not more of this "Oh, this is character has a disability and they're grumpy, because they're unhappy with their life." I actually saw a study recently, that mentioned that most people think those with disabilities have a poor quality of life and they're unhappy. When in reality, they tend to be happier than those without a disability! People with disabilities have the same wants and desires as everyone else.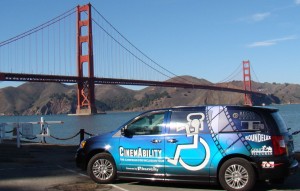 If writers start to write 3D characters, than directors and producers will start to think about who they want to cast and make sure they cast the best person for that role. Vince Gilligan didn't cast RJ in Breaking Bad to be an activist – he casted him because he was right for the role and it was real.
Too often movies don't show real life and they don't show people with disabilities in their films. But when roles like Walter Jr. are casted with great actors with disabilities, you'll see more characters being written this way, and more opportunities for actors with disabilities. It'll create a new sensibility. Kids could see a doctor in a wheelchair or an executive who is deaf, and they'll be able to think "Hey, I could do that!" and it will open up so many more doors. It will bring new ideas and new perspectives that haven't been thought of before, and that is our goal.
We need everyone to be a part of CinemAbility and help by going to cinemability.com and joining the Campaign for Inclusion when you do you will get a newsletter which has all the updates on when CinemAbility will be screening in your area and you can learn about all the exciting things coming up for CinemAbility.
---