Guest Blog
Adaptive Sports: How To Choose A Team That Will Become Your Family
A Guest blog written by: Annie Beth Donahue, is a professional writer with a health and disability focus. You can find her at www.anniebethdonahue.com

If you've ever played sports, you know the team experience can vary, depending on several different factors. Participating in sports can become a nightmare or a joy. And this difference can still be experienced when you participate in adaptive wheelchair sports.
Just because a team is designed for people with disabilities doesn't mean participating in it is automatically going to be pleasant.
I've seen over-competitive parents screaming at their children from the sidelines, and coaches displaying unsportsmanlike behavior in front of their young, impressionable team members.
But I've also seen teams where kids are held to high standards, encouraged to reach their personal bests, and trained to win, without gloating or degrading others. And while there are some exceptions, this has been our overall experience when playing adaptive sports.
Any sports team is made up of three different parts. You have your coaches, your team members, and your fans. To create an excellent team experience, all three of these groups have to have certain qualities.
If you are looking for an adaptive sport for yourself or your child, find a group with these qualities, and you will find a team that becomes more than an extracurricular activity. You'll find a team that becomes your family.
Coaches
My daughter plays wheelchair basketball with the Rollin' Hornets in Charlotte, North Carolina. Over the years, the Rollin' Hornets have some of the best coaches you could find. What makes our coaches great is not just their experience and their winning record. (Although we've had the honor of being coached by Dave Kiley, one of the greatest wheelchair athletes of all time.)
What makes our coaches great is their attitude.
"Teamship" is a word that was coined by coach Mike Godsey, one of the founders of Abilities Unlimited, the nonprofit organization behind our wheelchair basketball team as well as our local track and field team. Teamship is a word that combines "teamwork" and "sportsmanship." An attitude of Teamship is what drives all our activities.
The coaches push for teamwork and personal bests. They hold the children to high standards both on the court and off.
On the court, they know when to put in their best players to make a win, but they build up the team by giving children of all abilities a chance to get out on the court whenever possible. Ball hogging is discouraged. Trash talking the opponent, disrespecting the coaches, or disparaging a fellow team member who is having a bad day is not tolerated.
Off the court, they encourage academic excellence, community involvement, and respect for peers and parents. Our coaches see participation in their sport as a privilege. A child being in a wheelchair or having a disability is not the reason they are allowed to play. It's a requirement to be on an adaptive team, but it's not the only requirement to be a Rollin' Hornet. If a team member lacks the right attitude, they will be asked not to come back until they can show proper respect.
This is the kind of team you want to be part of. One where the coaches are not just experts in their sport, but they are also solid role models and respected authority figures.
Team Members
We love our team members on the Rollin' Hornets. Our basketball team is broken into different levels. There are two adult teams, a varsity team, and two prep teams. But because of the bonds that have been made, it's hard to know who is playing for what team.
The adults will often practice with, encourage, and attend the games of the younger members. The varsity kids hang out with the prep kids like buddies. The atmosphere is like having a big family with lots of siblings or cousins.
Our team members strive for their personal bests, but they respect and encourage each other. The kids with less sports ability are cheered on by their "all star" peers. Everyone knows what each child is capable of, and they rejoice when a child pushes their own boundaries to finally make a basket or block an opponent.
You won't find the team members name calling or putting down the child that missed a shot or wasn't quite fast enough to get to the ball. "That's all right man." "Good try." "Maybe next time." These are the ways you hear good team members encouraging each other to keep striving for their best.
Fans
Until we joined the Rollin' Hornets, I had never considered how much the fans were a part of the team. For us, fans include family members and friends of the team members, as well as volunteers and community members who have taken an interest.
What effect do the fans have on the sports experience? They can make it or break it.
Due to strong leadership by our coaches and enthusiasm by the team players, the fans have been pulled in to create a large, extended family for the kids. Our fans attend every event they can. They represent the team by wearing our t-shirts and "fanwear."
When you go to a Rollin' Hornets game, you know exactly what section our fans are in. You can usually look across a multi-court arena and easily spot the swath of team colors and logoed apparel. Our Facebook feeds are full of pictures and shares during ball season. And it's all very encouraging.
An apathetic fan base doesn't build up team spirit.
But when kids see so many people showing up to support them, it infuses them with new life. Our team families can't have clicks. All of the parents and fans support all of the kids. Our team members know that every single fan out there is rooting not just for the success of the "star" player, but for the success of every individual, and the success of the team as a whole.
The Result- Family
When you join an adaptive sports team that has all of these qualities, they become like family. The coaches turn into mentors. The team members turn into siblings. And the fans turn into a broad network of "relatives."
We saw this first hand when our daughter was out for surgery recently. The coaches and other parents checked in with us frequently to make sure we had what we needed. The team members texted with my daughter to cheer her up. And we were able to "attend" a tournament right from our home when one of the families face timed my daughter in between games.
When you join an adaptive sports team, it's a bit different from other teams. Everyone involved recognizes the unique challenges each member has, because they, too, experience their own unique challenges. Through their shared experience of both disability and sports, a strong bond has the chance to take place.
And when that happens, your team becomes more than just a recreational outlet. Your team becomes your family.
Adaptive Sports Information
There are many other adaptive sports you can participate in besides basketball. Here's some information on a few programs you may be interested in.
Basketball- The National Wheelchair Basketball Association webpage is a good place to start looking for a team.
Swimming- Here's some information on USA swim teams. And an article on the joys of swimming with a disability.
Dancing- There is an international community of Paralympic dancers that can be found here. Read more to see if wheelchair dancing might be for you.
Track and Field- Track and Field includes a variety of different outdoor sports you can participate in. You can learn about it on the Wheelchair Sports Federation page.
Check out Passionate People by Invacare and get a free ebook!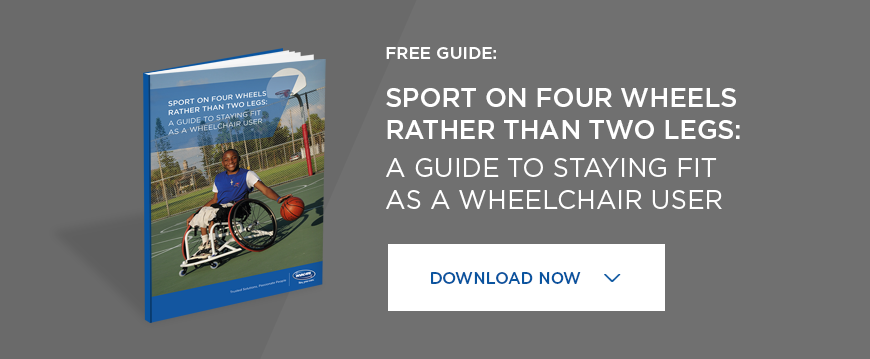 ---